Our new old tractor, an old-school
Farmall Cub!
Hello everyone! Now that the weather has started to feel a lot more like summer, things are in full swing at the farm! Fred is in a flurry of planting right now, getting the tomatoes, peppers, and sweet potatoes into the ground. We've got plenty of lettuce, spinach, and microgreens, and we harvested the very first zucchinis from the greenhouse this morning! The weeds are really starting to take off, but so far they've been easier to manage than last year because it's been drier out. We had some pretty severe deer damage about a month ago, but Fred has been diligently scaring them out of the field each evening, and the large group that ate down so much of our kale has moved on. The strawberries and blueberries are in bloom, and it looks like they'll be pretty abundant. Indeed, just about everything has been growing a lot more quickly over the last few days! We also got a new (old) cultivating tractor at the farm, an old Farmall Cub. We had the cultivator modified to fit our row spacing, and it does a phenomenal job! A huge shout out to Jeff Welch at Mr. Mower in Mt. Pleasant for making that for us! Another fun new thing at the farm is a few new lettuce varieties in our spring mix. We had a salad last night made with some of the new lettuces, and they are both lovely and yummy! I'm really excited to bring them to the CSA drop-offs next month! Speaking of the drop-offs, we're planning on starting in mid-June. We don't have an exact start date yet, but it will either be the second or third week of June. We'll let everyone know for sure as soon as we know. I'm so looking forward to seeing you all again this summer!
The Local Food Difference:
6 Great Reasons to Eat Local
Lovely rows of lettuce just waiting
to be harvested and eaten!
Five years ago when we were first starting the farm, learning how to run a business, and trying to balance work and family (Okay, so not much has changed, now that I think about it), we were stepping out into a subtly different food landscape than we're in now. Back then, we had to explain to virtually everyone we met what a CSA is, what organic actually means, and why locally grown food is fresher and better for you than food shipped in from far away. Indeed, most people hadn't really though much about the fact that on average, their food was being shipped about 1,500 miles before they picked it up and put it in their shopping cart. Now, most people already have some background knowledge about these things. The organic and local food movements have made CSAs a household word. I love that Better Homes and Gardens can casually mention that a recipe is a great way to use produce from the reader's CSA basket, and run on the assumption that the reader knows what they're talking about. I love that we're seeing more stores and restaurants with signs and menu notes telling customers what farm the beef, or the salad greens, or the apples in the pie came from. I love that organic food is more widely available to everyone, whether you have a CSA in your area or not, for prices that are more affordable to the average family. Yes, there has been a cultural shift toward being more generally conscious about where food comes from and how it was grown, and that is a great thing. It's what CSA farmers for decades have wanted to see happen.
But in some ways, being the change we wished to see in the world has made things a little harder for your average CSA. For the longest time, if you wanted to get organic or local food, you pretty much had to be in a CSA or grow it yourself. You had to commit to picking up your food at a particular place and time each week (or commit to several hours a week of planting, weeding, and harvesting in the garden), but it was worth it to know exactly what you were feeding your family and how it was affecting the environment. Now that organic food is more readily available and more affordable in your average grocery store, that's no longer the case. You can swing by the store on the way home from work and get your organic produce along with your shampoo, butter, and your daughter's birthday present. This is a great thing for consumers because it makes eating organic more accessible than ever. But I still believe that being part of a CSA is absolutely worth it, and not just because this is our livelihood.
It's been a few years since I've really thought to lay out why getting your veggies through a CSA or farmers market is better than getting them from the grocery store, because I'm so entrenched in this lifestyle that I forget that it's not, in fact, self-explanatory. So let's take a few minutes to talk about all the reasons why getting your food from a local farm is worth it, even if you have to go out of your way a little bit.
The strawberry plants are full of blooms, so we're hopeful
for an abundant strawberry harvest!
Local produce is fresher and tastier: If you've ever eaten a tomato straight from the vine or a just-picked strawberry, you already know that they bear almost no resemblance to tomatoes or strawberries in the grocery store, no matter how they were produced. The freshness, flavor, and texture of fruits and vegetables that were recently harvested are way better than that of produce that's been out of the field for longer. When you pick up produce that's been shipped from far away, it's usually been harvested a week before it makes it into your shopping cart, which means it's been steadily degrading since the moment it was taken from the field. That's also the reason why local produce will last longer once you get it home. When you get your produce from a CSA or farmers market, it's usually been harvested earlier that day or the day before. Another reason local produce tastes better is that farmers who don't have to ship their produce long distances can choose their varieties based on superior flavor, texture, and prettiness, rather than how it will hold up in a shipping container for several days. Also, when you grow veggies on a small scale, you're usually harvesting by hand, so you don't have to choose varieties that can stand up to large mechanical harvesters. Usually varieties that ship well and can be harvested mechanically without breaking aren't as delicious.
Local produce benefits your local economy: When you get your food from a CSA or farmers market, your food dollar stays in the community. Instead of it being sent to some corporate headquarters somewhere, it is likely to go to the local barber, or butcher, or piano teacher. Sometimes it's a symbiotic relationship too. Case in point: Our tax preparation guy, our propane guy, and the guy who makes the labels for our retail containers are all CSA members, so we all support each other, and the original food dollars keep circulating around the community.
Local produce is better for the environment: Nothing beats local organic food for reducing negative environmental effects. If it's organic, then no synthetic chemicals have been added to the ground or surrounding water sources, which is better for people, animals, and microorganisms. If it's local, then it has taken a lot less fuel to get it to you than produce that's been shipped across the country. Local farmers also usually produce on a much smaller scale, which means they don't have as much gas-guzzling equipment as larger producers.
Local produce is usually more cost-effective: When a grocery store stocks produce from across the country or even a few countries away, not only do they have to buy the product, they also have to pay for the shipping, and they also have to make a profit. This means that they have to charge more for it in order to make money. When you get your food directly from a local farmer, you can get superior produce for less money because there aren't the same shipping costs and middle men involved.
Local produce connects you to your community: If you've ever been to one of our CSA drop-offs, or if you frequent farmers markets, you know they are a social affair. I love listening to the conversations CSA members have with each other while I'm setting up the drop-offs. I hear about great recipe ideas, restaurants to check out, how people's kids and grandkids are doing, and opinions on current events and politics. In our fast-paced, convenience-driven, often digital lifestyles, sometimes it's just nice to establish a meaningful connection with a fellow human being in real life.
Local produce keeps the agrarian tradition alive: This is often on my mind in November as we wrap up another farm season, but it is equally true for the rest of the year. There is such a tradition of small farms and small farm families here in the Midwest, but most of that has disappeared over the last fifty years or so. I am so grateful to be living in much the same way as my farming ancestors (except that we have the internet and cell phones, so it's the best of both worlds!) There is a reason why rustic chic is a decorating trend right now, and it's because there is something in all of us that wants to be connected to something humble and honest and unpretentious. Small-scale local farming is exactly that, and it's a tradition that is absolutely worth keeping alive.
So next time you're making a decision about where to procure your food, take these factors into consideration. I'm not saying to never buy non-local food, because let's face it, it's really hard to be a purist in this area. But there is so much benefit to the farmer, the consumer, the environment, and the community, and so much good that comes from supporting local farms.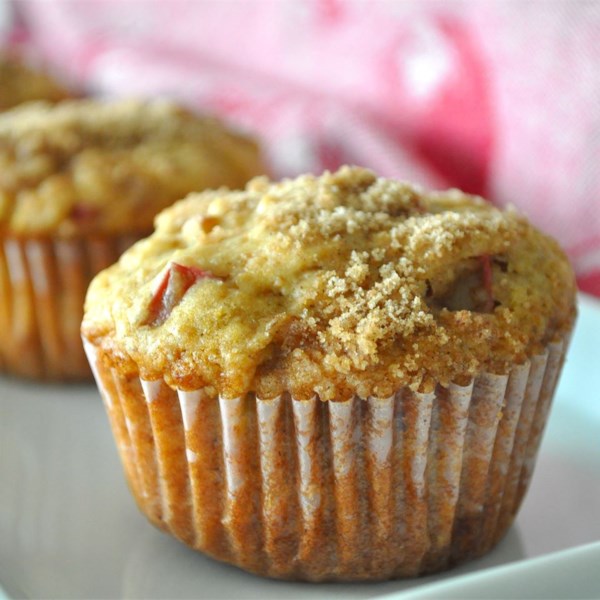 We're finally into local produce season here in Michigan! While most CSAs haven't started yet for the year, a lot of farmers markets are kicking off, and you can also find local produce in co-ops across the state. Right now, asparagus and rhubarb are in full swing, and many farms also have lots of greens, herbs, and green onions. While we don't grow our own rhubarb, Fred's mom always gives us a bunch, so I have been cooking and baking with it like it's going out of season... rhubarb tarts, rhubarb muffins, rhubarb oatmeal. So if you want a lovely and easy way to use the bounty of rhubarb available right now from your garden, co-op, or farmers market, try out these delicious
rhubarb muffins
!