Fred found a bunch of snakes living under the black plastic
that covered the rows of sweet potatoes.
Hello everyone! It has been a gorgeous week, which has really helped the plants put on some new growth quickly. We got all of our sweet potatoes harvested this week, and they are curing right now in the greenhouse in preparation for being in the shares. After they are cured, they will be ready for winter storage; otherwise, their shelf life is a lot shorter. We had a big harvest week in general last week, but the guys also planted some lettuce in the coldframes for the late fall harvest, and also worked on the new greenhouse we're constructing. The tomatoes are starting to be on the decline, but we've still got plenty of them! Fred also found a bunch of snakes living under the black plastic under which the sweet potatoes were growing! We are so glad the weather is nice again, because that will mean we have a larger variety of items for the CSA for much longer into the season!
What to Expect in This Week's Share
Our beautiful and delicious cherry tomatoes will be in the
shares again this week!
Brussels sprouts or broccoli

Carrots or cabbage

Tomatoes or cherry tomatoes

Kale or cooking greens

Large leaf salad mix or regular salad mix

Beans, beets, or bok choy

Baby fennel, slicing tomatoes, or baby head lettuce
Veggie Spotlight: Brussels Sprouts
This is the time of year that we usually associate with Brussels sprouts, when the sprouts have gotten to the proper size and the cool mornings of the early fall have given them a pleasant, rich flavor. Though they are time consuming for us to harvest, it is one of those seasonal crops that we really look forward to enjoying at home.
The exact history of the Brussels sprout is difficult to trace, but specific references start appearing in 16th century writings. The Brussels sprout was bred from cabbage type plants at some point, and they were first known, not surprisingly, to be found near Brussels, Belgium. Thomas Jefferson brought some of the first Brussels sprouts to North America, but they did not become very prevalent in the American diet until the 1900s. When commercial scale freezing technology became widely available Brussels sprout production skyrocketed in the U.S.
By the 1960s they were very widely known to most American homes, and they were infamous (definitely in a bad way) at the table to many young children.
This is because of Americans' tendency to overcook just about everything during this time period; Brussels sprouts are a food particularly unforgiving to overcooking as they begin to release a pungent sulfur taste and smell if they are cooked too long.
In the 1990s, the Brussels sprouts got a rebirth in popularity as big name chefs started expanding the public's awareness of methods for their preparation, and many people learned for the first time that Brussels sprouts are not, in fact, horrible.
Brussels sprout are exceedingly healthful and have a very high potency against cancer-causing compounds in the body. They are also found to significantly lower cholesterol and provide high amounts of vitamin K along with many other nutrients. In fact, their health benefits often exceed those of other superfoods like kale and broccoli.
Brussels Sprouts actually grow tightly up the stalk of the plant.
Our Brussels sprouts on the farm require the longest growing time of any plant we grow. They are started as seeds in the greenhouse in mid to late March, then after several weeks they are planted into raised beds with plastic mulch. They are heavy feeders (which means that they draw more of the soil's nutrients than many other plants) so we give them extra chicken manure pellet fertilizer and plant them in soil that is high in organic matter. Then they are very easy to take care of until late summer, usually only requiring a bit of watering until then. In late summer the aphids start to come to the Brussels sprouts, which we then spray with a combination of diatomaceous earth and Pyganic (a product name for a Chrysanthemum extract) to keep the populations down. However, this only beats them back but does not completely get rid of them. Around the first week of September we snap off the top growing point on the plant to encourage the Brussels sprouts to fill out. This happens as the plant hormones signal the growing buds that they need to grow out rather than up, since there is no growing point to continue producing more foliage on the top of the plant. This season was abnormally cool, so we were able to start harvesting the sprouts earlier, but in a typical year we start harvest around the 1st of October. Usually it takes until October for the Brussels sprouts to lose their bitterness that is caused by hot weather. Then we strip the developed Brussels sprouts off the stalk and trim the aphid damaged outside leaves, leaving you with Brussels sprouts that are ready to cook. We typically stop harvesting them in early to mid-December.
There are many really simple and delicious ways to
prepare Brussels sprouts! These are one vegetable
that don't require any complicated recipes to be wonderful.
At home our default way to cook them is with bacon or ham fat, though we also like frying them in butter and garlic. The key to bringing out their great flavor is to cook them until thoroughly cooked but not mushy. Other methods of preparing them are to use them raw in a salad where they are more finely chopped and paired with a heavy dressing and/or other strongly flavored ingredients like raw fennel. There are also the French cream sauce/Brussels sprouts combinations popularized by Julia Child, and their use in some Asian stir fry type dishes that are also common.
As much as I avoided Brussels sprouts of all types as a child, I am completely thrilled that they are back again for another fall, and I hope you enjoy them as much as we do!
Recipes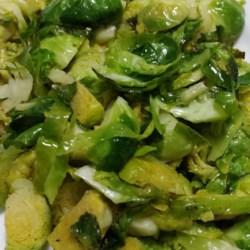 Check out this extremely simple but delicious way to cook Brussels sprouts. These Truly Delicious Brussels Sprouts are pretty similar to how we often prepare them at home.
This recipe for Pan Roasted Brussels Sprouts with Bacon is another common way we prepare them at home, especially as a side dish with breakfast. Give it a try if you're looking to awesome up your morning a little!