Farm Update
Fred harvests spinach
on Monday. This
particular spinach is
headed to the Greentree
Co-op in Mt. Pleasant,
where you can find our
produce for the next
couple weeks.
Hello everyone! The farm is covered with a dusting of snow, the veggies are almost done for the year, and hibernation time is upon us. While Fred is able to continue to harvest some things, most crops are over and done, so our pace of work is significantly slower than in the summer. We are continuing to deliver veggies to a few restaurants and stores, but the harvest is pretty limited this time of year, and Fred's work is mostly focused on preparing for the winter freezes and snows. My farm work has also slowed down immensely, and just in time, because we had our new baby last Tuesday! His name is Timothy Franklin Monroe, and he is sweet and happy and healthy. We're definitely enjoying our cute new addition to the family and the slower pace that November brings. The holiday season will also be here soon, and a CSA share makes a great gift for a loved one. We had several people last year who got half shares as gifts for their parents, so that is an excellent gift option for those who like to cook with delicious veggies!
Jane and Jessamine meet their new
little brother for the first time.
Every November without fail, I begin to reflect on the cyclical nature of life, and the farming life in particular. There's something about switching my focus from farm and field to hearth and home that causes me to reflect on the year as a whole, and I find myself feeling deeply thankful for another harvest season completed. I am always very aware this time of year that our November activities (preparing the fields for winter, waking a little later in the morning now that the sun is rising a little later, preparing foods that are heartier and more autumnal in nature) are pretty much what every farmer in similar climates has done every November for farther back than anyone can remember. The things we are doing now would have been very familiar and recognizable to my grandparents 50 years ago, as well as their great-greats in centuries past. In fact, I wrote an article to that effect last year around this time, which you can read here.)
Because we harvest the lower leaves
first, the lacinato kale looks like mini
palm trees by this point in the season.
But the wonderful thing about life is that although it has its rhythms and its cycles, it isn't static. Although I am doing many of the same things I was doing last November, I look at my kids who are another year older and more independent, and our new little baby who last year at this time was only an idea, and now very much exists in flesh and blood. And the farm continues to grow as well. Over the course of the last year, we've expanded in many ways, adding new crops, new delivery options, new certifications, new infrastructure, and a new body of experience to what was there last year. I look around and think "when did all of this happen?", and it reminds me of Fiddler on the Roof (which is perhaps one of my favorite movies ever), where the parents are reflecting on both the cyclical and forward-moving nature of life upon the occasion of their daughter's marriage. And I know that although things will keep progressing and changing, they'll also keep circling back around, and next November I'll be doing and thinking the same things I'm doing now, but a little older and wiser.
And as in years past, I am incredibly thankful for another season successfully completed, another year of experiences, knowledge, and wisdom gained, and another year of serving our community in our own little way. And thank you all for being there with us through the journey!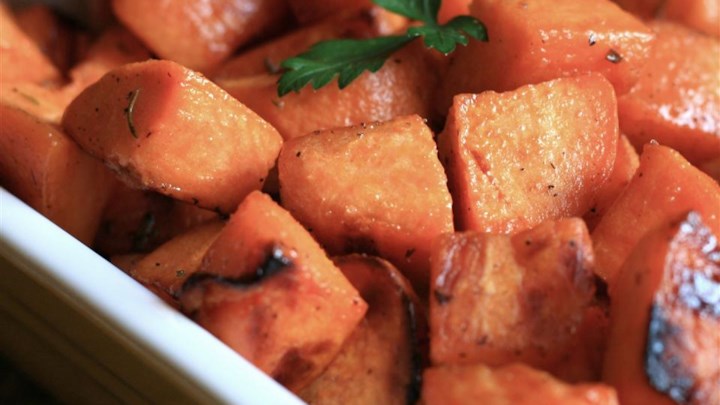 When I was a kid, I thought I didn't like sweet potatoes because we only ever ate them at Thanksgiving, and only mashed up and topped with mini-marshmallows. If you are partial to that particular preparation, knock yourself out. But if like me, you prefer your sweet potatoes unmashed and un-marshmallowed, try out these Honey and Rosemary Sweet Potatoes as a delicious alternative for Thanksgiving!