Farm Update
The veggies are all set up and ready to go at our Alma
drop-off on Monday!
Hi everyone! It is certainly a hot weekend! Fortunately, we got some good strong rain a few days ago, so the ground contained a lot of moisture going into these few hot days. That will allow the plants to be significantly less stressed than they would be otherwise with these temperatures. With the heat and the rain, quite a few of our warm weather crops are taking off. Over the next few days, we'll see a lot of growth on our cucumbers, tomatoes, sweet potatoes, and winter squash, and we'll likely have a pretty abundant zucchini situation this week! We've started to eat the very first of the ripening tomatoes at home, so we hope to have the first appearance of tomatoes in the CSA shares in the next few weeks as the hot weather speeds them along. The same weather that encourages such rapid growth on our crops also causes the weeds to go crazy, so we'll be doing a ton of weeding this week! The blueberry bushes are also looking really strong and healthy, so it's likely that we'll start having blueberries in the shares in two or three weeks!
It's also been a festive week! We (mostly) took a break from farm work yesterday to celebrate Fred's brother Charlie's marriage to Lexi, the newest addition to the Monroe clan. Those of you who came to the Midland drop-off on Thursday probably got to meet our kiddos, who joined us at the drop-off while the rest of the family (who normally babysit them while we're at the farm) were at the rehearsal. It was a lovely wedding, and we're so excited to have Lexi in the family!
Speaking of festivities, this Wednesday is the 4th of July! If you are unable to make it to the drop-off this week due to parties or travel plans, just let me know and we'll plan on postponing your share. We are actually moving our regular Wednesday deliveries in Lansing, Okemos, and St. Johns to Friday, July 6th. Because we deliver prepacked shares in these locations and two of our drop-off spots are closing early on the 4th, and because we heard from so many people that they would be unable to make it on that day, we're rescheduling the drop-off for the first time ever. If you're at one of these drop-offs, you should have received a separate email about this, but just in case you missed it, there will be no Wednesday drop-offs this week!
We are also pleased to announce our new partnership with Full Circle Farms, who raise pastured organic meats in Lakeview, MI! If you want to purchase any of their fantastic products at their online store, they'll bring your purchases to us, and you can pick up your items at our regular CSA drop-offs! They have many different types of meat available whole or by the pound, as well as cheeses, soaps, maple syrup, and other odds and ends. Check out their
website
to learn more about their mission and philosophy, and their
store
to take a look at their lovely products!


What to Expect in This Week's Share
The blueberries are looking good! They're not quite ripe yet,
but we expect to have them in the shares in a few weeks!
If you are picking up at one of our traditional style drop-offs (Alma, Mt. Pleasant, or Midland), here's what the options will be at the different stations. If you have a half share, you'll choose one item at each station, and if you have a full share, you choose two items at each station.
Carrots
Beets or cucumbers
Spring mix or romaine
Basil mix, kohlrabi, or fennels bulbs
Kale or Swiss chard
Zucchini
Radishes, bok choy, or cabbage
If you have a prepacked share (Midland hospital, St. Johns, Lansing, Okemos, or home delivery), here are your options. If you have a half share, you'll choose either share A or share B, and if you have a full share, you can choose two of them.
Share A: Share B:
Carrots Carrots
Beets Cucumbers
Spring mix Romaine
Basil Kohlrabi
Kale Chard
Zucchini Zucchini
Cabbage Bok Choy
Recipes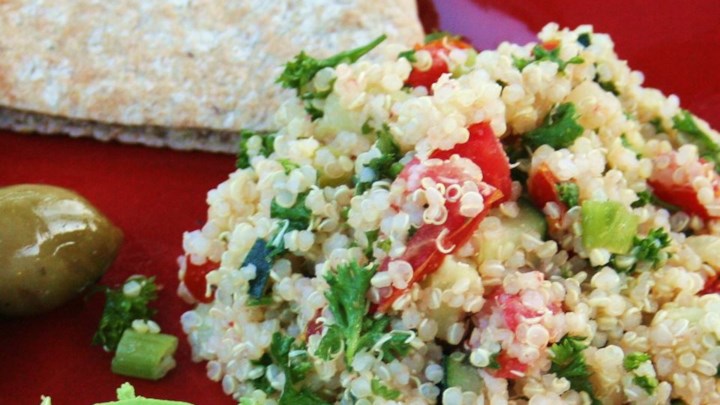 Weather this hot calls for recipes that don't involve standing over the stove or turning on the oven! If you're looking for a great way to use your carrots and cucumbers, and like me, you're slightly obsessed with tabbouleh, check out this delicious recipe for
Quinoa Tabbouleh
from allrecipes.com! Or if you're going to be grilling this week (and that's almost all of us! Yay for Independence Day!) throw some zucchini on the grill with this
Balsamic Grilled Zucchini
recipe!