Last week the apple trees were in full bloom and looking
gorgeous! Only time will tell if the trees made it through
the hard freeze we got Wednesday morning.
Hello everyone! The start of the CSA season is just around the corner! We'll probably be kicking off the CSA during the second week of June, but we're not 100% certain about that yet, because it largely depends on what the weather does between now and then. When we do know for sure, we'll send out an email to all the CSA members, and we'll request just a quick response to make sure you got the message. Then, if I don't hear from you within a few days of the email, I'll give you a call so we make sure you don't miss out on your first week of veggies. Also, if you are interested in some pre-season veggies or you just want to stop by and say hi, Fred will be at the Midland Farmers Market this Saturday! We'll have spinach, spring mix, cilantro, and a few other odds and ends available, so come on by and see Fred at the market!
Mary, Daniel, and Aram plant
leeks in the field.
We've been pretty busy at the farm lately as well! We finally got our irrigation system finished in the blueberry patch, which turned out to be a bigger project than we thought it would, but we're thrilled to have a reliable water source for the blueberries. It has been a much drier spring in general, so we may be shaping up for kind of a dry summer as well. The lack of rain has been pretty beneficial so far; since the fields haven't been as wet as they usually are, we had a lot more leeway as to when we could plant, and we've had less pressure from weeds than we usually do this time of year. We have had more trouble with flea beetles though, because they prefer to come out in dry weather. We also had a pretty hard freeze in the wee hours of Wednesday morning, which is really unusual for this time of year. We covered what veggies we could to insulate them from the cold, but we did sustain some light damage to many crops, and our green beans pretty much got wiped out. Fred replanted them today, so we'll still have plenty of them this season, but they won't be as early as we had originally hoped. What was also surprising is that we had quite a bit of damage to the kale, which is normally one of the cold-hardiest things there is. We definitely didn't see that coming, but it should come back just fine in time for the CSA. Today, Fred planted
the sweet corn along with the second planting of green beans, and he'll be putting in a lot of our warm-season veggies (like tomatoes!) next week. All in all, the world is coming back to life, and it is so nice to be back into our more active summer rhythm. See you all in a few weeks!
What to Expect at the First CSA Drop-Off
These little lettuce plants are looking beautiful and vibrant!
These particular lettuces' slightly younger cousins will be
among the choices in your first CSA share.
Before the first drop-off, I always get a lot of questions from CSA newbies about how a drop-off works, and we have a lot of new folks this year! So in case you were wondering, here is what you can expect at the CSA drop-offs!
The first thing you need to know is when and where your drop-off is happening. At the Alma drop-off, that will be on Mondays between 5 and 6 PM in the parking lot of His Place, which is right downtown on Superior St. The Mt. Pleasant drop-off is on Tuesdays (also 5-6 PM) in the parking lot of Herbs Etc, which is downtown on Broadway. The main Midland drop-off is on Wednesdays (also 5-6 PM) in the back parking lot of the Eagle Ridge Church on Waldo. We also have a mini drop-off at the Midland hospital with pre-packed shares. If you are signed up for that drop-off, you can pick up your share in the seating area behind the Center for Women's health anytime after 4:15. In previous years, I've had Midland folks ask if they can pick up their shares at the hospital instead of the regular drop-off because the location is more convenient for them. If you were wondering the same thing, I'm going to have to dash your hopes, because the hospital has regulations that only allow people who work at the hospital to pick up their shares there. Sorry! The final drop-off of the week is our East Lansing drop-off, which is on Thursdays from 5-6 PM outside the East Lansing Food Co-Op. ELFCO is on Northwind Drive, right off of Grand River just a little east of MSU campus. If you are signed up for home/workplace delivery, I'll be sending out a separate email to you explaining how that will work, so keep an eye on your inboxes!
The blueberry bushes are in bloom,
and the berries themselves should
be ready for the shares in mid-July.
So once you're at the drop-off, here is how things will be structured. We'll have a sign-in sheet with everyone's name on it and what type of share you have, and you can just initial next to your name when you arrive. That's our way of knowing who has been there and who hasn't, because sometimes things get really busy and I can't remember if I've seen a particular person yet. Once you sign in, there will be two long tables of veggies set up with seven or eight "stations". It doesn't actually matter which table you choose, because the stations are identical; we mostly just have two tables in order to keep the line moving. Once you are at the CSA tables, you'll see signs telling what the options are for each of the stations. For example, at the first station, it might say "Salad Mix or Spinach: Half share, choose 1. Full share, choose 2." So you'll choose either one or two items from that station depending on whether you have a half or a full share, and then you'll move on to the next station, which will have different choices. By the time you get to the end of the table, you will have made seven or eight different choices of what veggies you want for the week. We also have a Trading Station at the very end. If you went to one of the previous stations and weren't crazy about any of the choices, you can actually take one of your items from another station and trade it for something you like better at the Trading Station. Like, if you didn't really want salad mix or spinach, but you see that there are some extra carrots at the Trading Station, you can just put down your salad mix or spinach there, and take the carrots instead. It's our way of making sure you don't end up with something you really don't like.
These bins of spinach are headed to the Midland Farmers'
Market tomorrow morning, along with several other
wonderful veggies! Fred has been out harvesting all evening
so he can head out bright and early in the morning.
So that's the basic structure of a CSA drop-off. Now for some tips and tricks!
Tip #1: You'll want to get there a little early for the largest amount of choice, unless you want to avoid the lines, in which case, getting there 15 or 20 minutes into the drop-off is your best bet. We normally have a big line of people start gathering 15 or 20 minutes before the drop-off, and the reason is this: at the beginning of the drop-off, all of the choices from all of the stations are still there. Later in the drop-off, sometimes some of the choices have been snapped up. We try to anticipate what percentage of people will want which things, but that is a really inexact science. It's more like educated guesswork. So if everyone wanted spinach one week, the later people might get there to find that there is only salad mix left at that station.
Tip #2: If you have a reusable bag or basket, bring it along! We'll have fairly heavy-duty grocery bags there, but if you have your own bag, that allows us to not go through them as quickly, and it is a lot more eco-friendly.
Tip #3: If you know you'll have to miss a particular drop-off, you have a few options: You can have a friend pick up your share for you, or if you let me know by the day before the drop-off, we can actually postpone your share and get you a double share when you get back. Also, it has happened many times that someone realizes later at night that they completely forgot about the drop-off. If this happens to you, here is what we usually do in situations like that. Just send me an email and let me know! We can't necessarily harvest an extra share for you the following week, but we will likely have some extra veggies left over at the drop-off anyway. So if you forget to pick up your share one week, if you come by during the second half of the following week's drop-off after the main rush, we'll have a pretty good idea about how much extra we're going to have, and you can take some extra veggies to make up for the ones you missed the week before. :-)
Tip #4: Most weeks, we'll have some extra non-CSA items available for purchase, such as eggs from our free-range chickens, or extra blueberries, strawberries, etc. Those will be at the beginning next to the sign in sheet, and if you're interested, it's best to get there early. We usually sell out of eggs in the first 15 minutes or so, and sometimes a lot faster!
So that's it! If you have any questions, definitely let me know, and we'll see you at the first drop-off!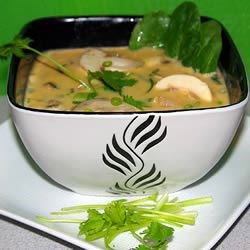 Thai Curry Soup: Normally I'm not interested in recipes that will require me to leave the house to pick up ingredients; I usually favor things that I can make from what's in the field and standard in my freezer and pantry. But this Thai Curry Soup is worth a trip to the store, and it includes spinach and cilantro, both of which are coming out of the fields and coldframes right now! Try it out!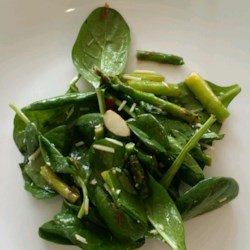 Grilled Asparagus Salad: If you are going to be grilling this weekend, give this Grilled Asparagus Salad a try! It is a great side dish with whatever you a making for your Memorial Day cookout!